John Robbo of Tasmania, AU, bought his first motorcycle at the age of 16 -- a new Bridgestone 100 Deluxe in 1968 from Yates Motorcycles in Launceston. The day before he picked it up some school kids had been through the shop and taken the key out of it, so it was hauled home in a Holden ute and with a friend spent the next 3-4 days pushed up and down the driveway until the key arrived. It had the two tone grey and white seat with red lettering "BRIDGESTONE" across the back and also the same in gold lettering on each side of the petrol tank on the red paint just above the chrome.


The original riding group consisted of a Honda CB90 (the only four stroke), one Ducati Cadet 100, a Yamaha 100 twin, two Suzuki 100's, and this Bridgestone 100. Later, three more joined the group riding another two Suzuki 100's and a Bridgestone 90.

The BS100 Deluxe was ridden all over, often over one hundred miles at a time, with roads frequently gravel or dirt, in all weather, even snow. John relates,


"One frosty winter's night I was so cold that I had the throttle screwed open as hard and far as it would go and actually saw the speedo needle touch 75 mph. It was a little bit wobbly at that speed, or maybe it was my stiff shaky arms, but I let it back off to 65 mph. When I came down our driveway I couldn't use the clutch or brakes properly and the small dent in the garage roll-a-door is still there today! I fell over sideways and my dad came out, stood me on my feet and put my bike in the shed for me."

Bert's 350GTR Roadracer

Pic#1,

Pic#2,

Pic#3, 1999
Bert's 350GTR Roadracer


, 2017


1966 BS175DT. Joe W. owns this bike, built in February 1966. It was a dealer demo that was never sold. A customers bike blew it's clutch apart, and instead of making him wait for parts, they took the parts off the demo; the bike was then put in a back room where it sat until 1979. When bought, the parts were under the bike, still new in the boxes. It was put back together, where it sat again in someone's shop. I've had it since last year. It has only 157 miles on it, has never been registered, and all the paper work came with it, just like it would have in 1966. The tool kit is still sealed, having never been opened, and it has the deluxe seat. The bike now sits inside the house.

Jim Evans, 17 years old, at Carlsbad Raceway, likely in the summer of 1971 at an ACA event, on one of Tony Murphy's BS350's. The purpose was to ride this bike for a season or two prior to going professional. This blue 350 was reportedly one of two commissioned by Bridgestone to contest the AMA nationals with Tony Murphy and Bob Barker building. It is without the fairing in this photo, possibly deemed unneeded at Carlsbad. Jim recalls the fairing was built by Wixom and was a bulky, one piece unit and is sure his dad had an easier time jetting the bike without it. This bike was a groundbreaking road racer. It sported 16" wheels, special Goodyear tires and Lockheed brakes, with the most massive forks he'd seen. It was fast and seemed to slide around a lot at Carlsbad, however he remembers winning a few 350 events over the area's fast Yamahas. This was his first introduction to big horsepower, not AMA horsepower, but fast for the club stuff of that day.

Stan Smith and George Miller both on a BS175 in the International GP at Orange County International Raceway in 1969. We were "nip 'n tuck" for 1st place till we started lapping riders. I went to the inside and George went to the outside to pass a rider in turn two when I slid on some "track marbles" the side car race left before and we both crashed.

Stan Smith's BS175 at Willow Springs raceway 1970 with Pat Evans chasing me on a 180 Yamaha.
Stan Smith's 100 TMX at Orange County International Raceway in the 100 production race.
This is Stan Smith's last BS 175 at Ontario Raceway in 1977. It was faired out in Yamaha tank/seat replica's and had a Ducati twin lead front brake that basically bolted into the stock forks.


Stan Smith's BS175 at Lyons drags, used as a prototype by J&R Engineering for their after market glass packed street pipes that were expansion chambers inside. "(They used my A1 Kawi also.) Got FREE pipes for the favor!"


Stan Smith with his BS175 racer.

Stan Smith with his BS175 and TD1C Yamaha with Yetman frame.

George Miller's BS175 racer. The guy in the background is Mike Velasco.

Cycle News: Stan Smith takes 1st in 175cc GP at Orange County International Raceway, June 1, 1969. Gary Wells takes 1st in 100cc and 175cc TT Scrambles at Huntington Beach, May 25, 1969.

Don Vesco's 350 BS at Orange County International Raceway on the cover of the program.

Norm Ellis on a 100cc Flat-tracker at South Gate Speedway, about 1968. Barney Tillman tuner.
This and the next: Stan Smith on #151, Chief Galbrath on #11, Bob Barker on #66. ANZAC Raceway, 125/175 200 GP, September 28, 1969.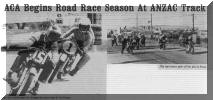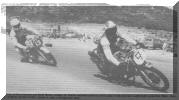 Stan Smith, Lightweight Production 200cc Class.

Cycle News: Stan Smith wins 200cc Senior GP and Production Classes, George Miller wins 175cc Junior GP and Production Classes, all on Bridgestones at Orange County Intl. Raceway, October 5, 1969. Jeff Davidson wins the 125cc Amateur Class and Aaron Asman wins the 200cc Novice Class, all on Bridgestones at Sacramento Raceway, October 4, 1969.
Cycle News: ACA ANZAC Opener Road Race Results -- Stan Smith takes 1st in 175 GP and 3rd in 200cc Production, Bob Barker takes 1st in 200cc GP, Pat Evans takes 1st in 100cc Production, Roger Wood takes 1st in 200cc Production; September 28, 1969.
Porterville TT Scrambles -- Darrell Smith takes 1st in 90cc Amateur, Jim Pence takes 1st in 175-200cc Novice; September 29, 1969, all on Bridgestones.

Cycle News: Bridgestone takes California by Storm! 1st in 100cc, 200cc, 350cc at Orange County Intl. Raceway, August 4, 1968. Bridgestone 175 takes 1st in Drags, August 11, 1968. Bridgestone takes 1st in 100cc, August 2, 1968.

Cycle News: Desert Challengers Snow Run, Jim Clancy takes 1st in 100cc Novice, December 22, 1968. Carlsbad Road Race, Stan Smith takes 1st and Mike Velasco takes 2nd in 100cc GP, December 22, 1968, all on Bridgestones.

Cycle News: Willow Springs Raceway, Stan Smith takes 1st in 100cc Production, July 7, 1968.
Bridgestones in Europe

Racing 125, Henk-van-Kessal owns this BS175 converted to a water cooled 125cc, named Condor, 1999.


BS175 This was made out of some surplus 175 stuff that was hanging around from previous 175 restorations. It has 22mm carbs with175+ racer carb covers, clip-ons and BS fenders. It's a bit of a copy of a pre-production 200 in Japan, which had lovely all in one mufflers (too expensive to copy). The aluminum tank we made for our road racers; chopped 350 seat; the frame has a few surplus brackets and things hacked off. We put a choke lever down on the battery carrier, near the ignition switch. E-mail Brian.

BS200 One of three Bridgestone road racers currently racing in the UK. This one is owned by Brian McDonough's spanner wizard Vince Gunning, ridden hard and well by Ian (WILF) Wilson.

BS200 X 3

Wilf at Pembry, April 16, 2001

Racing 200, Vince Gunning raced in the 200cc class of the CRMC (classic racing motorcycle club) in the UK, 1999.

Vince at Pembry, April 16, 2001

Vince on a racing 100 in TMX frame.

BS200 Another UK road racer, ridden by Andy McDonough and Roger (Roggy) Porter.


Roger at Pembry, April 16, 2001


Racing at Pembry, April 16, 2001

BS175+

BS200 MII SS before.

BS200 MII SS after.

BS7 before.

BS7 after some work by Brian and Vince. Purchased from Gary Toomer.

after. Obtained in Pittsburg.
BS100TMX. Obtained in Pittsburg.

BS90 Mountain
BS7 Brian is looking for information on this early BS7 electric start ,a personal import into Holland from Japan; bought by a road racer whilst competing in Japan. I think it is 1960 (unless any one knows differently).

BS7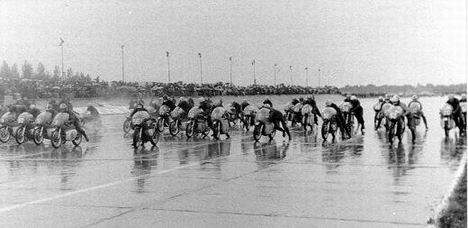 Around the middle of 1968 Ray Breingan, a Kiwi and fellow competitor, showed me an advertisement for this motorcycle that seemed too good to be true -- a Bridgestone 350 GTR. We were off to Czechoslovakia and Yugoslavia to take part in some races there so on the way we stopped in Surrey to buy a Bridgestone 350 GTR. I think it cost about 350 pounds. Although we were not riding at the Czech Grand Prix we went there to modify the Bridgestone into some form of race bike. I remember executives and directors of the Jawa company appraising the Bridgestone and they expressed their amazement that anyone could produce such a motorcycle and sell it for so little. The week following the the Grand Prix we were contracted to ride in an International race in Piestany near Bratislava. I would ride the Bridgestone in the 350cc class and also my Matchless G50 in the 500cc class. Ray was riding his Yamaha in the 250cc class. There was a strong field of riders, many coming from the G.P. held the week before. Many fellow riders laughed when they saw me with this unheard of road bike complete with standard silencers about to take on some of the finest production racers and factory teams. The day of the race brought rain. At the start of the 350cc race the Bridgestone made a great start (still using the standard gearbox). I remember passing many Manx Nortons and Aermacchis to finished 5th or 6th. No one could believe it -- neither could I in fact. It had fired me up and I took the Matchless on to get a 2nd in the 500 race. The Bridgestone is number 72 in the middle of the picture. -- Steve Ellis

Steve Ellis at Murska Sobota, Slovenia, 1968